The Farm
Farming in one of the fertile canyons of northern Deschutes County, Deschutes Canyon Garlic specializes in growing unique and flavorful varieties of certified organic seed garlic. We strive to produce seed garlic of exceptional quality, meticulously grading our harvest to ensure our customers will grow beautiful, vigorous garlic in their gardens and on their farms. The arid climate and sandy loam soils of Central Oregon's high desert are uniquely suited to growing clean, seed quality garlic. Our garlic farm is certified organic by Oregon Tilth, and we are devoted to building fertility on the farm through the practices of cover cropping, compost application and crop rotation. Growing garlic is our passion and we hope it's yours too!
Seed Garlic
We are dedicated to providing you with premium quality seed garlic. To meet our standards for seed grade bulbs must be large, firm and true to type. To ensure the highest quality seed garlic, we use a five year crop rotation utilizing annual and perennial cover crops on the farm. Each harvest we send samples to the Oregon State University Plant Disease Clinic for testing to make certain our seed garlic meets the highest standards. Our seed garlic becomes available for pre-order in July each year and shipping begins in late September and continues through the fall. Order early for the largest selection!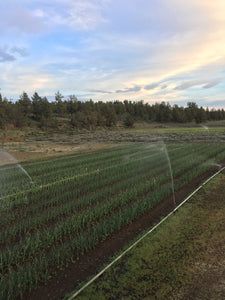 Certified Organic
The farm is certified organic by Oregon Tilth. Certification or not, we would be farming with the same practices, because they are the practices we believe in. Organic farming is often defined in terms of what it IS NOT... no chemical fertilizers, pesticides, or GMOs. But we prefer to think of it in terms of what it IS. On the farm, our practices build healthy, living soils through natural processes. The main tools we use to build fertility on the farm are cover cropping and composted manure application. These practices deposit organic matter in the soil, feeding beneficial organisms that go on to cycle nutrients to our beloved garlic crop.
*If you would like to see a copy of our current organic certificate, click here.