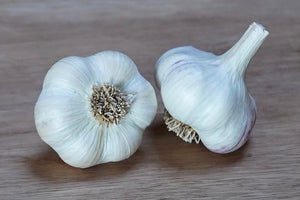 Deschutes Canyon Garlic
Lorz Italian - Seed Garlic
Regular price
$13.00
$0.00
This strain was brought from Italy to the Pacific Northwest by the Lorz family in the late 1800's. 'Lorz Italian' has excellent "garlic" flavor but with mild to medium heat. This makes it a great garlic for any recipe calling for raw garlic - think salad dressing, humus, bruschetta, salsas and guacamole.

'Lorz Italian' grows well in both northern and southern latitudes. On the farm it is one of the most uniform and high yielding strains we grow. It produces early maturing bulbs that can be palm sized in proper growing conditions.

*Shipping of seed garlic starts in late September.

*Due to plant quarantine restrictions we cannot ship to the following areas: Idaho, Malhuer county in Oregon, Grant, Benton, Franklin, Adams and Klickitat counties in Washington state, Hawaii, or Puerto Rico
---